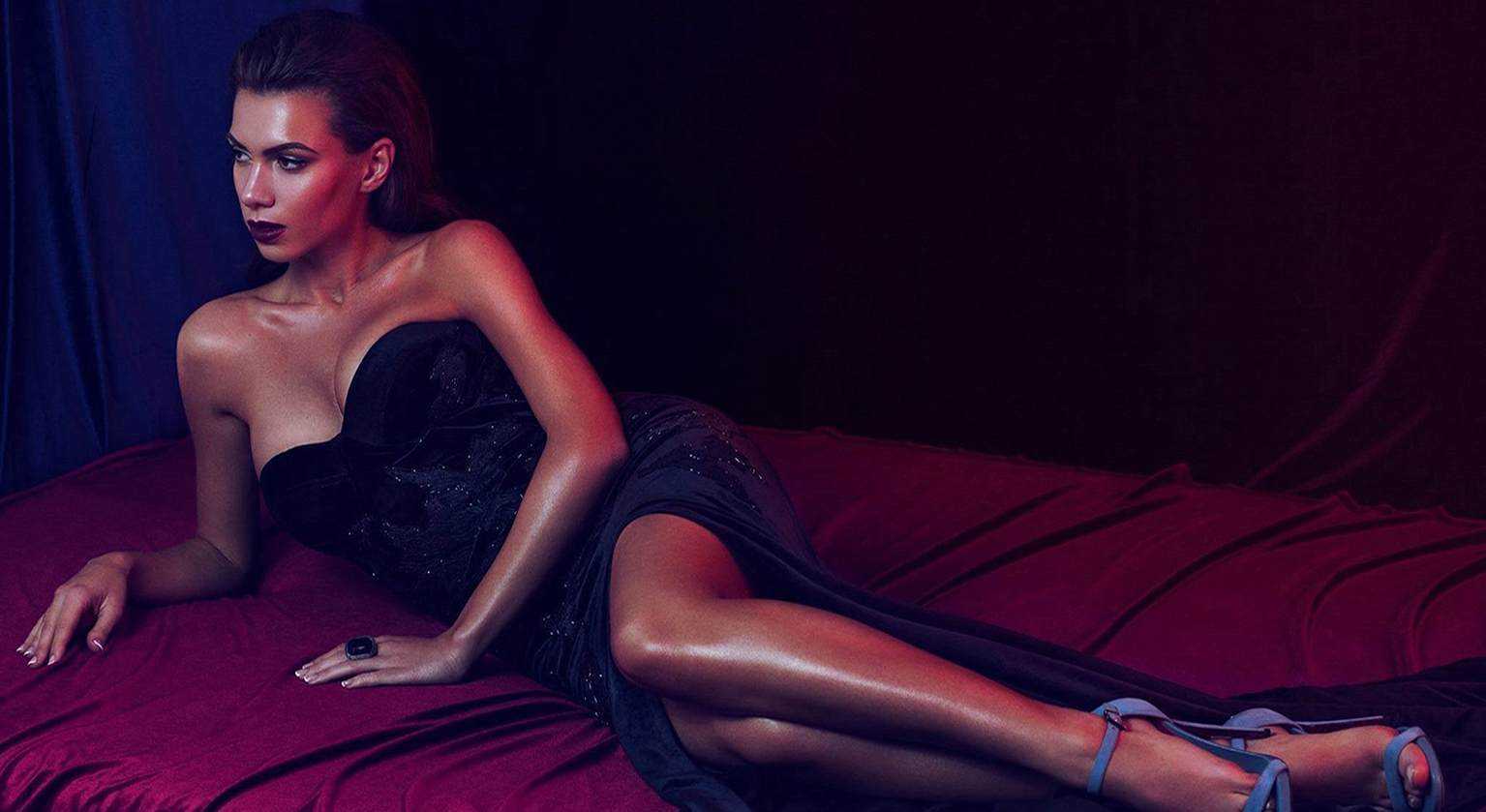 23 Oct

Olga Blanc
Photo: Courtesy of O'Blanc
Acclaimed fashion designer, Olga Blanc has made a name for herself, creating beautiful dresses for women of all shapes and sizes. With shops all over the world and a growing international clientele, Olga Blanc is the rising designer to watch.
By Victoria Adelaide | OCT 23. 2017
Victoria Adelaide: What made you decide to design clothes?
Olga Blanc: I know it sounds banal, but I have known I would be a fashion designer since I was a child. I used to be a professional ballroom dancer at fourteen years old. And I started to design my competition ballroom dresses myself when I turned ten. When I was about fifteen years old, I was already designing ballroom dresses for the other girls in my dancing group. When I stopped my sports career at the age of nineteen, being National Champion, I knew what I wanted to do next. I was dreaming of becoming a fashion designer.
VA: Do you design for a specific body type with a certain kind of woman in mind?
OB: To me, all women are beautiful in their own way. We never make any differences whether a woman is skinny or curvy, short or tall. We create clothes for everybody. When we create our collections, we always have in mind to emphasize women's bodies rather than show imperfections. That's why gowns in smaller sizes can sometimes be more open or sexy, and the bigger size gowns are more delicate.
VA: Is your work a reflection of your own fashion taste? What's your style?
OB: Sure it is. My work is a projection of my thoughts on how I want to look on a Friday night or on the red carpet. Still, in everyday life, I'm more like a Steve Jobs than a Hollywood diva.
VA: Where do you get your inspiration from?
OB: From women around me and the woman within me.
VA: Celebrities wear your designs. How do you feel when you see these women in your dresses?
OB: It's always a pleasure. Everybody loves to be appreciated.
Photos: Courtesy of Olga Blanc "O'Blanc"
VA: You have stores in the Americas, in Europe and in the Middle-East. Are you planning to extend to other continents?
OB: Oh yes. I would love to have an 'O'Blanc store' in every city in the world and make as many ladies as possible happy.
VA: What are you trying to communicate with your art?
OB: It's always about feeling confident, beautiful and ruling the world. Of course, inner beauty is the most important thing, but still there is a Russian proverb that says, 'People are met by their clothes'.
VA: In your own words 'You must give up the word 'impossible' from your mind'. How did you forge such a determined personality, this ultra-positive spirit and trust in your abilities?
OB: I'm a former professional sportswoman. I think my sports career was the best school that I could ever attend. Being strong, confident, disciplined and able to work hard until you reach perfection. This is what sports are about and this is who I am now.
VA: Do you consider yourself as a dreamer?
OB: Oh yes. Guilty. I'm such a big dreamer! I could easily make speeches, or give inspirational courses or something like that (smiles).
VA: O'Blanc is mostly a brand for women. Do you ever plan to design for men and for children in the future?
OB: We do have dresses for girls, usually that match mommy's dress. As for men, not sure if I will ever make it, I only want to dress women (laughs).
VA: Everything is handmade in your Ateliers; how many dresses do you produce per year and how long does it take to complete one dress?
OB: Well it's difficult to say. Besides our atelier where we mostly create couture, bridal or custom dresses, we also deal with a few manufacturers for the prêt-à-porter line. So it's hard to know exactly how many we produce.
VA: You create your own fabric. What is your favorite fabric to work with?
OB: Don't make me choose (laughs). I love many. If it's a winter collection, I love jacquard, satin, wool. If it's a summer collection, I adore chiffon, silk and lace.
VA: Besides designing beautiful dresses, what do you like to do when you are not working?
OB: Simple things. Traveling, discovering nice places, enjoying eating good food, some good wine, reading a nice book, listening to some nice music…
...I'M MORE LIKE A STEVE JOBS THAN A HOLLYWOOD DIVA``