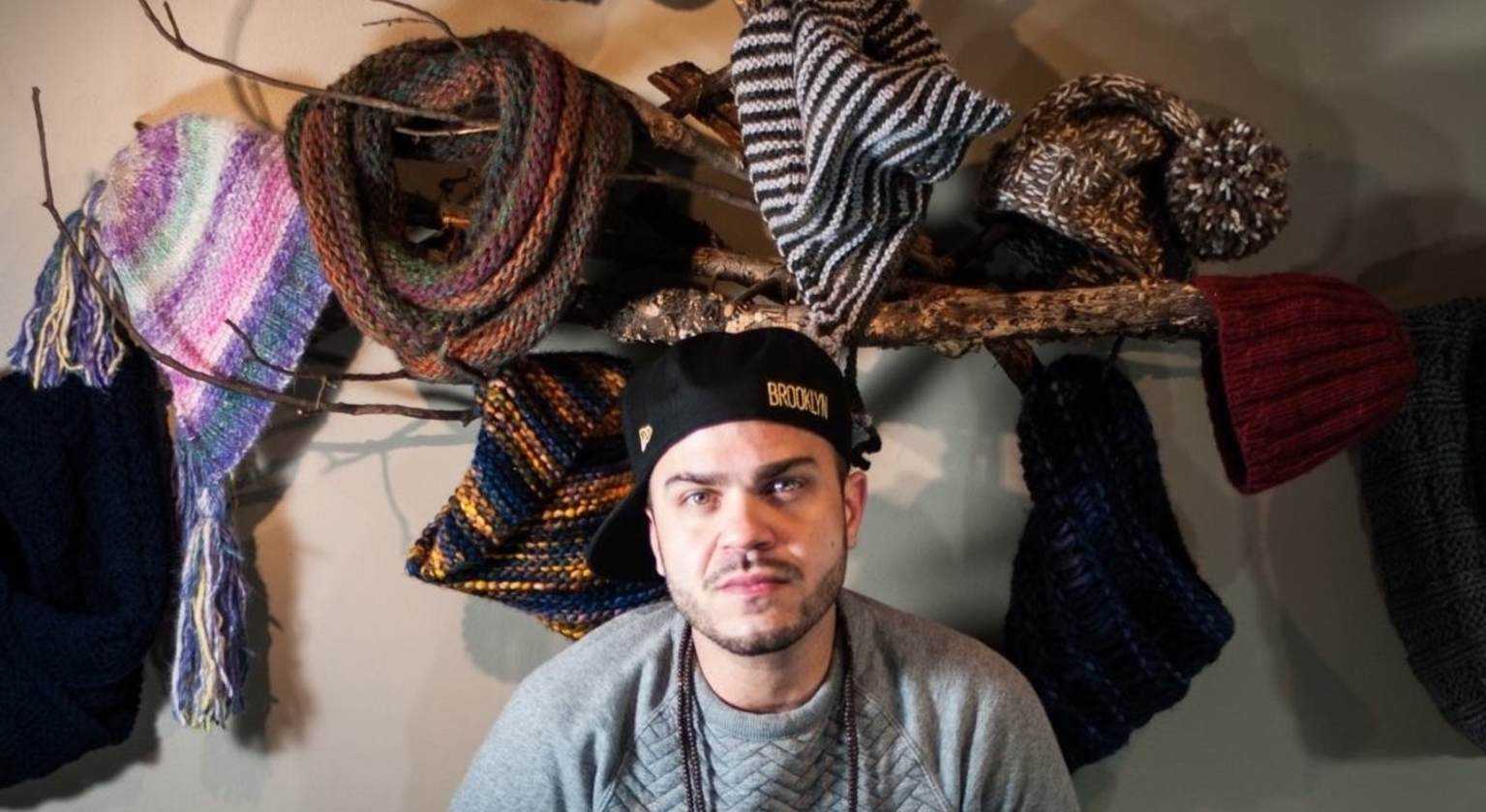 19 Mar

Louis Boria

Founder of Brooklyn Boy Knits, Louis Boria's business took off almost overnight after a famous singer posted a picture to her Facebook of him knitting on a New York subway train. The picture went viral and generated an immediate buzz. Boria is now running an international company that ships worldwide.


By Victoria Adelaide | March 19. 2018

Victoria Adelaide: When did your love for knitting start and who taught you?
Louis Boria: My love for knitting started about 10 years ago after I had a dream. I was knitting. I woke up that morning and I couldn't get the dream out of my mind. Before having the dream, I never wanted to learn how to knit. So, that same day after work, I decided to go to the local arts and crafts store. I bought needles, yarn, and a book titles Learn How to Knit and then went home. I'm a visual learner; I like to see things in action, that's how I learn. The book was too complicated; it wasn't for me. So, I decided to go on YouTube and I started my journey by watching YouTube videos and learned how to knit.

VA: That's interesting, I was thinking that maybe you had a grandma who taught you how to knit (smiles)…
LB: Actually, what's funny is that my grandmother used to crochet. She tried teaching me once when I was about 13-14 years old, but I didn't like it, surprisingly. I wasn't interested at the time until this happened to me. But it was knitting, not crochet. I fell upon knitting and it changed my life. (laughs)

VA: You became an overnight sensation when a famous singer posted a picture of you knitting on Facebook. How did that feel?
LB: When I started going viral, I couldn't make sense of it. You hear about people going viral all the time but you never really understand what it is and what it means until it happens to you. (laughs) It was quite amazing and it still is. I still wake up every morning realizing that this is actually happening to me. They say these things usually last just for a few weeks. This happened back in November, and now we're in March and it's still going. Every day, I get another opportunity to really express my story. It makes me feel good that I went viral because of something positive, because so many times you see stories about people going viral for the wrong reasons.
Video: Courtesy of 60 Second Docs.
VA: How did it impact your business?
LB: Sales have gone up tremendously for every article that's been published, for every news article and interview… people are recognizing my work. I have literally tripled my monthly orders. I recently moved. I needed more space, an office, to accommodate my business and all the orders that I'm getting now. Before, I was doing everything by myself but now I've hired three knitters. Management-wise, I'm still looking for someone to manage me and for P.R. personnel. I never thought I would ever need a P.R person (laughs), but I do.
VA: You also deliver worldwide?
LB: That's correct. I was going to stay within the U.S but I realized that winter doesn't only exist in the U.S. (smiles), winter exits throughout the world. As you know, many different times of the year our summer is winter somewhere else—it can be Argentina or somewhere else. I wanted to offer that to the world. I don't want to limit my business to just the U.S. And now I'm shipping worldwide. I want people to buy my items.
VA: You said, at first, that you were scared to knit publicly, but then you started. What made you change your mind?
LB: Well, sometimes I had to spend an hour to an hour-and-a-half on the train traveling to work; I was wasting too much time. That time could have been used to knit. I was so concerned about what people would think about me but then I realized—nobody cares. In the end, nobody gives a shit about what I do. So, I just started taking on my project and started knitting in front of everybody. Yes, I did get looks, but they weren't the looks that I was expecting. They were more like fascination. I started seeing that it wasn't them but it was me that was judging myself. When I got comfortable with it and started feeling that it doesn't matter what people think about me and I was going to do what I love to do, at that moment, my life started to shift. Then, I started getting into conversations about my knitting with people all the time.
VA: You said knitting takes you into that 'zone'. Can you describe what it's like?
LB: Knitting is one of the best forms of therapy. When I pick up those needles, I could be having the worst day ever, it just drifts me off. I get so focused on what I'm doing at hand, on my project, that everything around me doesn't exist. It's just me and that project. I think that's why many knitters knit. It puts an emphasis on focus; it gives you a sense of peace. That's why I love it.
Photos: Courtesy of Louis Boria.
VA: You also have a message you'd like to spread through what you do. Can you tell us about that?

LB: Well, what I've learned is that it doesn't matter if you are a male or a female; society put us in a box. Men are expected to do one thing and women are expected to do another thing. But now we live in a time where that shouldn't exist anymore. There are men who do hair, makeup, and are wonderful makeup artists. Then, you have some great male fashion designers. When we think of fashion, when we think of hair or makeup, the first thing we associate those with is a woman. However, it's actually done mostly by men. Many women out there are great electricians and great construction workers—some even teach baseball teams. It's not about defining you as a male or a female; it's about the talent that was given to you and the passion that you have. That's how I think about my knitting. I'm trying to change the face of knitting so it's not just a gender-based thing to do. It's about loving what you do no matter what it is. My talent is not about me being a man; it's about my knitting skills. Of course, people see me as a man—the way I dress, I have tattoos, and I have a beard. They can't make the connection (laughs). People stare at me a lot. I'm okay with that now because I know that I'm breaking down barriers, I know I'm not fitting the criteria that are associated with knitting. But it's ok; I love getting reactions from people. My message is very clear: love what you do no matter what.
VA: How long does it take you to complete a piece?
LB: Well, for example, my Bushwick convertible hat usually takes me two hours to make. My baby blanket takes an entire day maybe depending on how big the blanket is. A sweater takes anywhere from two to three days. I can make two scarves in a day, etc. I'm a pretty fast knitter; my execution time is pretty standard in terms of knitting.
VA: Let's talk about knitting itself. What are the different techniques and how do you create your own designs?
LB: Knitting is very traditional. There are only two stitches, which are called knit and purl. Those are the two stitches I've learned in knitting. Also, there are times that we pick up our own style. When I say style, I mean, what type of knitting do I do? What type of piece do I like to make? I like to consider myself more of an urban culture type of knitter. So, I'm always looking for trendy bigger items that fit New Yorkers. I always look at my customers as buildings (laughs). I look at them and I'm like All right I'm going to go window shopping today. I'm going to take a look at what they're all wearing today. I'll look and I'll see a lot of colors, big pieces, etc. And what my customers love are my bigger bulkier bolder items and anything with strings. So, I always go with that and think of a way I can incorporate these elements into what I do. I always like to use raw materials as much as I can, such as other elements than just yarn. I use leather, suede, beading, recycled t-shirts. I take t-shirts and I convert them into yarn. I always find these new techniques to use; it's not just yarn. I started to incorporate this into a lot of my pieces and people love it. I'm always stepping up of the game, always trying to find an alternate form of knitting. So, it's about taking the traditional and incorporating that into something new and something different.
...It's about loving what you do no matter what it is.``