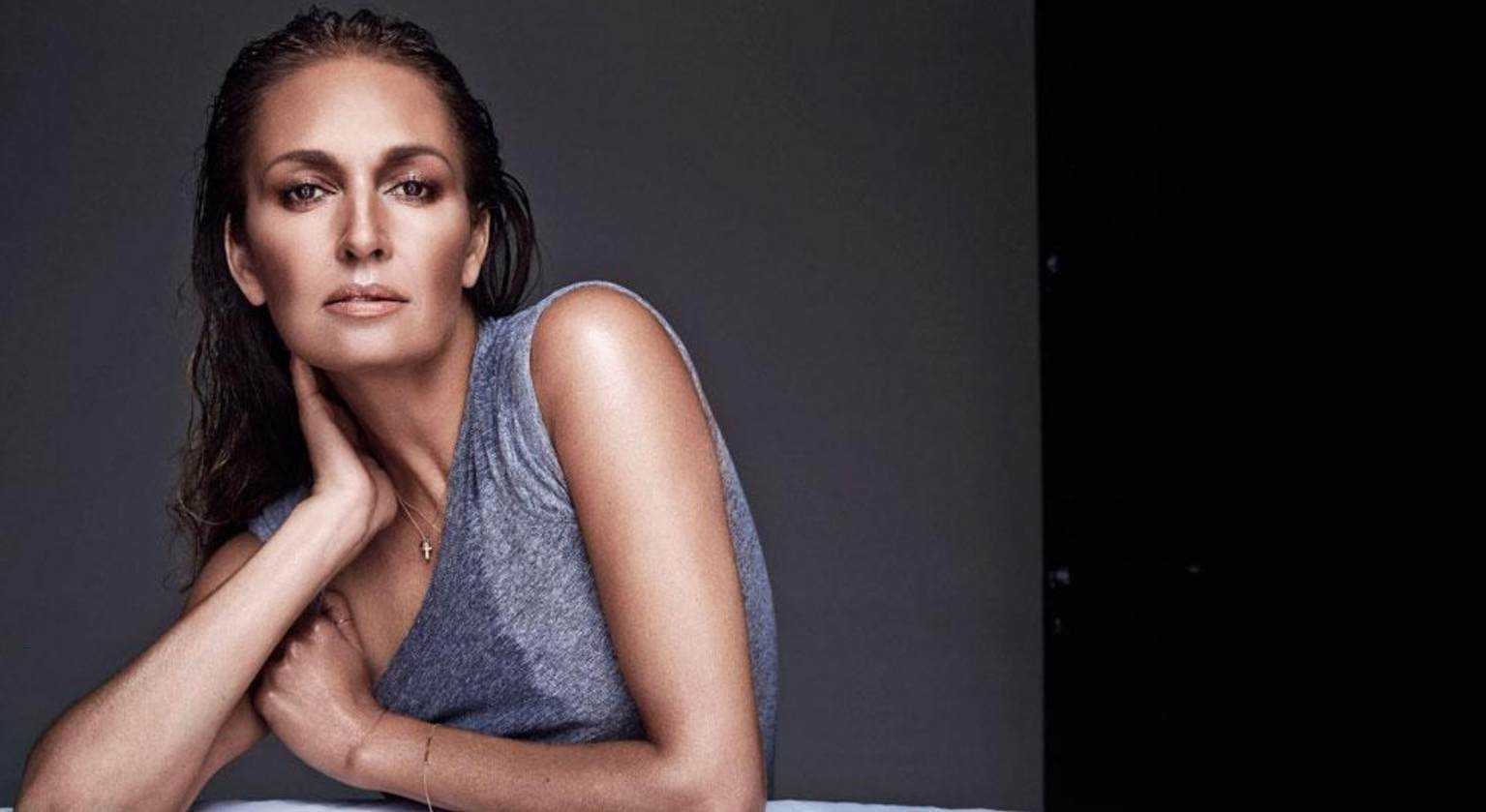 11 Mar

Gail Elliott

British fashion icon Gail Elliott is one of the original supermodels of the '90s. Star of the runway, she worked with the most celebrated designers and enjoys a career that has spanned over 24 years. Gifted with incredible fashion flair, Elliott has established a name for herself as a strong and successful fashion designer. Her international brand, Little Joe Woman, which she runs with her husband, Joe Coffey, has been praised by the media and her dresses are worn by numerous celebrities such as Cindy Crawford, Helena Christensen, Elle Macpherson, and Nicole Kidman, to name a few. Based on the paradise island of Bali, Gail Elliott and Joe Coffey are currently expanding their business into hospitality with the opening of The Brawa, a luxurious boutique hotel.


By Victoria Adelaide | March 11. 2019

Victoria Adelaide: How do you think your career as a top model shaped the fashion designer and creative that you are today?
Mrs. Gail Elliott: I was extremely fortunate to enjoy a long and successful career as a fashion model for 24 years in the late '80s and '90s and had begun to feel a need to express my knowledge, thoughts concerning fashion, and my feelings creatively. Having worked as a fashion model with all the most talented designers of that time, I came to appreciate quality, luxury and how beautiful clothing makes a woman feel. My first designs were simple slip dresses and camisoles—pieces I couldn't find in stores at the time. I started with six silk slip dresses and six silk camisoles in six colors. These have been staples in every collection because they are feminine, flattering, can be worn with many other pieces of clothing, and always look current and stylish. A slip dress never dates and can be worn alone or with a denim or leather jacket, with heels, flats, boots, under a coat, for day or for evening, in flat solid silk, in shiny silk sateen, or in a print. A silk camisole can be worn with jeans, leather pants or skirts. Both can be worn out, to lounge in at home, or to sleep in. They are the most versatile pieces in my wardrobe and I have them in many colors. In the current collection, I've produced them with matching silk, Chantilly lace-trimmed panties in jewel colors. They're gorgeous.

VA: In 2002, you created the fashion brand Little Joe Woman with your husband. What kind of feedback did you receive from the fashion world on you being a top model turned fashion designer?
GE: Many in the fashion world were supportive of my first collection as a fashion designer. The first major boutique we sold to was Browns Fashion on South Molton Street in London. I called to make a buying appointment with the legendary owner and buyer, Mrs. Joan Burstein and I got one immediately. She'd seen me on runways in Milan, Paris, London, and New York for many years so I assume that's why she took the meeting. We're also both British, so that could have been another reason. I had no idea how to present a collection and my husband and I literally took a bag of samples to the store, laid them out on the counter, and Mrs. Burstein ordered every piece. Nowadays, presenting a collection is different. You need a contract with a sales agent and show from their showroom; you need P.R. and a monthly retainer, all of which is costly for a designer who is starting out. Some magazines were also supportive by giving our brand attention. Many of my girlfriends wore my slip dresses and still do, such as Cindy Crawford, Helena Christensen, and Yasmin Le Bon—who were also my bridesmaids 20 years ago—, as well as Elle Macpherson, Naomi Watts, Nicole Kidman, and Miranda Kerr. They have all been supporters of the brand.

VA: What's your creative process and where do you find your inspiration?
GE: My creative process and inspiration happens constantly. I'm inspired by my daily life, things I see, people I meet, the places I travel to, and conversations and experiences I have. I design for myself, my friends, and for my customers, and gather information for the next collection, months before we have to put it down on paper. I love to wear dresses, as they're so easy to throw on, feel polished in, and go. My customers tell me the same thing, that the design of my dresses make them look and feel confident and that they're ready for any situation whether it's going to the office, a Friday lunch, dinner date, a business meeting, or for cocktails. It's so easy to add a silk blazer, denim or leather jacket, flats, heels or ankle boots, a great bag, and shades. My goal is always to design pieces that make women feel confident and, in turn, make them feel beautiful wearing delicately feminine pieces sprinkled with rock-chic glamour. People often ask me: who is the Little Joe Woman? She's a mix of my friends and women who inspire me. She appreciates a little luxury, she's chic, she's subtly sexy, she's a busy person, and she enjoys travel and loves life—just like me. It's always a thrill to receive feedback from customers, see online orders come through, or meet customers in-store. Everyone has a choice in what they wear; so, when I see someone wearing something I've designed on the street or on Instagram or even seeing someone carrying our shopping bags, it's very exciting and is such an honor.
Photo 1: Steven Chee | Photo 2: Myles Pritchard
VA: Friends such as Cindy Crawford, Helena Christensen, and Yasmin Le Bon are great supporters of your brand. How does it feel in a world where everything is going so fast, to manage to keep such precious friendships for so many years?
GE: Cindy, Helena, and Yasmin have been my closest friends for over 30 years. They were my bridesmaids when my husband and I were married 21 years ago. Although we all live all over the world—me in Bali, Cindy in Malibu, Helena in New York, and Yassy in London—when you have a close bond, although distance is difficult, you make it work if you truly love and respect someone. We often message one another and when I do see the girls, it's like no time has been spent apart. We simply pick up from where we left off. We were all so young when we first met, our lives were so full and fun and crazy but we worked very hard. It was so normal for us to be walking the runway for Chanel in Paris one day and jumping on the Concorde to be shooting in New York for Vogue the next. We'd hang out with all the talented stylists, photographers, magazine editors, and hair and make-up artists, flying around the world to exotic islands to work or to play. Fashion designers like Gianni Versace would fly us to walk their runways on their private jet and always throw spectacular after-parties and invite actors and rock stars. Some of the models started dating them, so it seemed natural for the boyfriends to attend our shows. Helena was dating Michael Hutchence, Carla was dating Mick Jagger, Cindy was dating Richard Gere, Yasmin was dating Simon Le Bon, and Naomi was dating Bobby De Niro. Bono and the U2 boys were often around, as was Michael Hutchence and Elton John. We would fly around the world to their shows and they'd fly to ours. It's amazing how we ever got to various locations, let alone on-time, as there were no computers and barely any cell phones. To get us to our next model booking, our agents would send the hotel we were staying at by fax with instructions for the next booking, flight details, and the next hotel destination. But somehow, it all worked out and I don't remember ever missing a flight. In a world that is now going so fast, the three of us are still great friends.
VA: In the first quarter of 2019, you are opening a luxurious boutique hotel in Bali called The Brawa. Can you tell us a bit about the concept and how this project came to life?
GE: My husband and I have traveled all over the world for many, many years and in the back of our minds, we always thought one day we'd own a hotel. An amazing opportunity arose, my husband took it, and here we are opening a 20 luxury suite boutique hotel and restaurant with a roof-top pool and bar and a Little Joe Woman store. It's our first venture into hospitality and we're extremely excited. Obviously, it's so much work but it's very exciting to be creating everything from the concept, to the style of each suite, the restaurant menus, staff uniforms, cocktails, plates and cutlery, bed linen, shampoo scents, lighting, and plants. There are so many details that you take for granted when checking into a hotel. The style is modern Balinese with warm, sexy, dark wood interiors and stone bathrooms with luxurious amenities. The suites are available to purchase and will be fully turn-key and managed by an experienced management group.
Photo 1 by Myles Pritchard | Mrs. Gail Elliott with her husband Mr. Joe Coffey |
Photo 2: Courtesy of Mrs. Gail Elliott and
Iconic Focus Models
| Mrs. Yasmin Le Bon, Mrs. Gail Elliott and Mrs. Cindy Crawford |
Photo 3: Courtesy of Mrs. Gail Elliott and
Iconic Focus Models
VA: Both of your businesses are based in Bali. Besides the obvious beauty of the island, why did you choose Bali as your headquarters?
GE: Deciding to move our business to Bali actually started because someone approached us wanting to open a Little Joe Woman by Gail Elliott boutique in Bali, so we flew out to meet them. We all dream of moving to a beautiful, tropical island like Bali and Joe Coffey, my husband, business partner, and CEO of our fashion brand, wanted to experience how to make that happen and live and run our business remotely, in paradise. After the meeting, we wandered around discovering the island for ourselves and loved the vibe here. I was born and raised in London. We'd both lived in New York, me for 24 years and Joe for 15 then we moved to Sydney, where Joe is from, and were ready for a change. So we decided to move to the magical island of Bali in beautiful Indonesia, bringing our fashion business with us. We now have a beautiful store in Seminyak and run our online boutique and wholesale business from here. I can't believe the life we've created here. I pinch myself almost every day because we live and do business from a tropical island. I meet people who tell me they walk around Bali racking their brains trying to think of what they could do to be able to live and work here. We've built a beautiful home and are very grateful to be living this life.
VA: How is it working together as husband and wife?
GE: When we met and lived in New York, I was a model and Joe was a screenwriter. Joe and I would travel together to all my fashion shoots at locations all over the world and he would write from our various hotel rooms. We've been married for 21 years and have traveled together for 24, so have always been very much together. Working together now is simply a wonderful extension of our previous careers. For us, Bali is the hub of Asia and there is so much opportunity that comes from living here. There are so many chic, interesting people that live and work from here who travel through Bali from Europe and the United States or visit often. There are world-class restaurants, resorts, hotels, luxury boats, and beach clubs on the island to experience and there is always something new happening.
VA: Any wishes on a star for the next five years?
GE: My husband and family are the most important part of my entire world, so I'm extremely passionate about making sure they are happy, healthy, and have everything they need at all times. I also love to be at home cooking, reading, laughing and relaxing with family and friends. I love to travel with my husband and we get a huge amount of pleasure from experiencing great hotels and restaurants in exciting parts of the world. So if all this could continue for the next five years or longer, that would be my "Wish Upon A Star!"
...I'm inspired by my daily life, things I see, people I meet, the places I travel to.``